EXCLUSIVE FOR PARTICIPANTS OF 8TH ICSSST 2021: COME AND JOIN MTC 5.0
---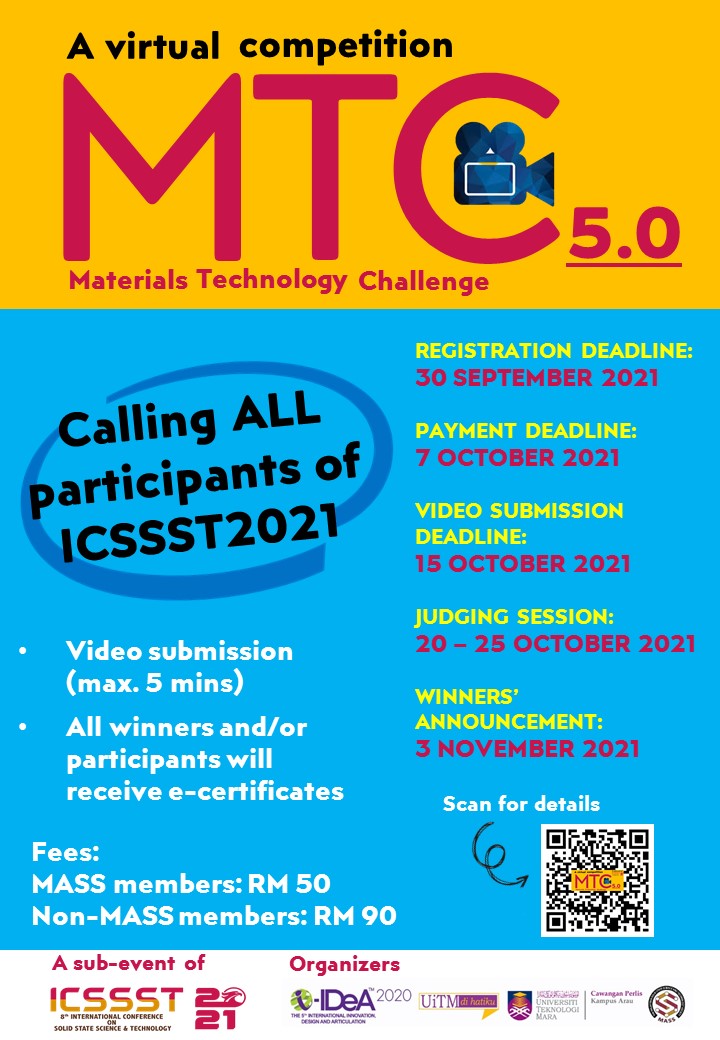 MTC 5.0 introduces submission of VIDEO for participation.
VIDEO
CONTENTS
The video submitted should
either be a completed or an ongoing research in any area of materials science and technology.
be original and have not been submitted or published in any conference or journal.
The video should describe:
novelty of the research and research approach
research problem and motivation of work
background and related work
materials characterization
potential application
FORMAT
The video submitted
should be in English
duration of 5 minutes or less
format should support Google Drive/YouTube
EVALUATION
Evaluation criteria:
novelty and significance of the contribution
visual aspects of the video
presentation of video
Evaluation will be done using the concept of 'Remote Judging'
THINGS TO DO
REGISTRATION & PAYMENT
Participant of ICSSST2021 may register using registration form: https://forms.gle/eY7mUMrbKLSt4Hsn7
Upon acceptance by the committee, information for payment will be e-mailed to the participant
Participant make the payment and keep the receipt as proof of payment
Registered participants submit proof of payment using proof of payment form:https://forms.gle/xF2tCTe3oDDQ3iUA9
SUBMISSION OF VIDEO
Participant submit video using submission form: https://forms.gle/nwPjtcpWzfiZ8svS9
Participant upload the video in Google Drive/YouTube
Participant paste the video link* in the submission form, upload proof of payment and SUBMIT.
*Kindly ensure the link provided is accessible to anyone with the link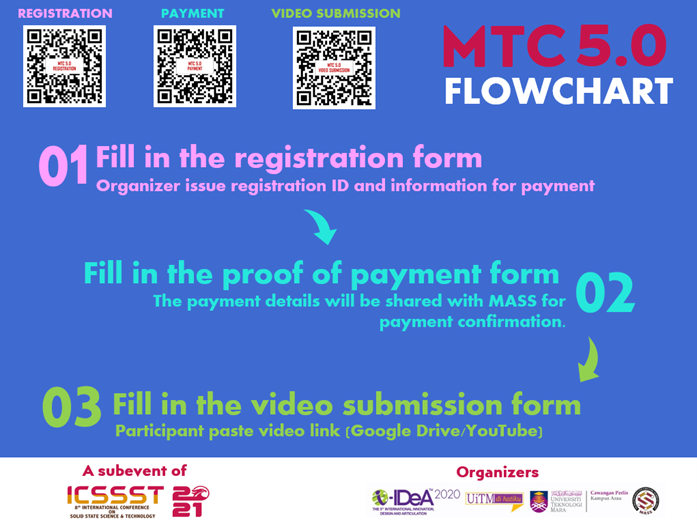 IMPORTANT DATES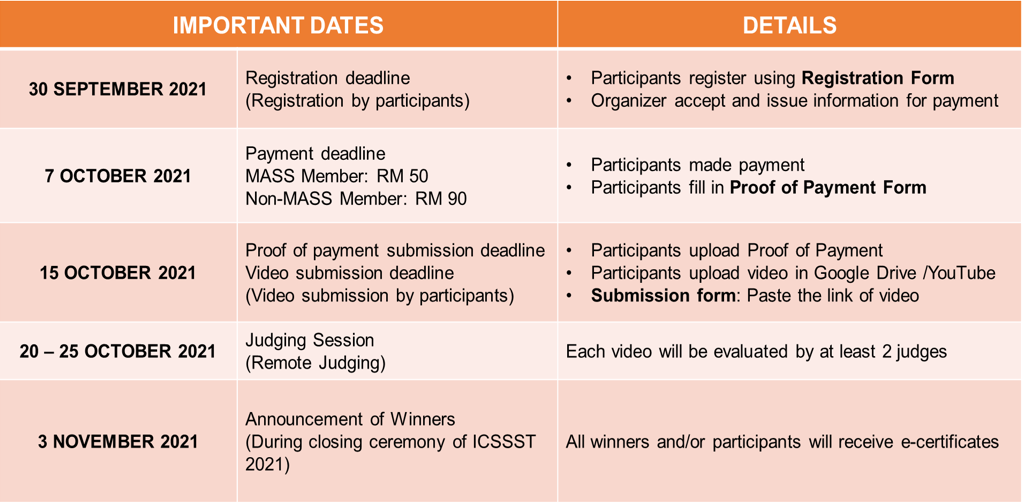 RULES & REGULATIONS
The registration form should be submitted to the organizer of MTC 5.0 by 30 September 2021.
Once the registration has been accepted and confirmed by the committee, participants are obligated to make payment within the allocated timeframe.
Participants who withdraw their participations after the last registration date must pay the whole amount of their invoiced fees.
In the event of participants were found to break any rules of MTC5.0, the organizer has the right to reject the participation and all the payment made will not be refund.
Participants are responsible for application of patent/copyright for their products.
The organizer is not responsible should there be any plagiarism of product or any leaking of data during organizing the competition.
Decision made by the judges are final and no disputes or appeals will be entertained.
For enquiries, kindly email to:
This email address is being protected from spambots. You need JavaScript enabled to view it.